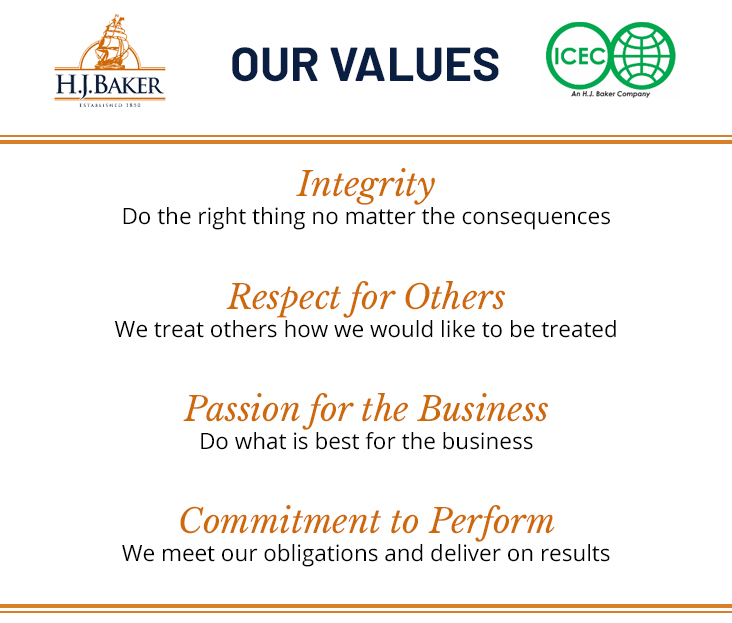 Our employees share important ties: A rich, 170-year history. Family ownership. Strong core values. Weave them together, add our global locations, and these features make H.J. Baker a first-rate team to join.  Our historic success is due to our outstanding employees and our longstanding commitment to our company culture and values
BENEFITS BEYOND A PAYCHECK
Of course, your paycheck matters. But working with great colleagues and feeling valued means even more. That's why our benefits programs are designed to keep you healthy and help you meet your financial goals while also balancing the demands of work and personal life. We're committed to promoting our employees' health, safety, and wellness because it's the right thing to do.  Our best-in-class benefits are based on position, country location, and number of years with H.J. Baker.
In addition to career development and a great working environment, we offer comprehensive benefits packages which include best-in-class health insurance options, significant employer-matched retirement plans, and much more to help our employees achieve a healthy work-life balance.
Here's a closer look at all we offer:
COMPETITIVE PAY: We offer competitive base pay programs for the exemplary employees we attract and hire.
PAID TIME OFF: All full-time employees receive paid time off for vacation, local and country-specific holidays and sick/personal time. Paid time corresponds to the specific in-country practices where employees are based and their length of service with H.J. Baker.  
MEDICAL, DENTAL & VISION INSURANCE: We offer several comprehensive medical, dental and vision insurance plans. Preventative services are covered at 100%.
CASH PERFORMANCE BONUS: Superior company performance is celebrated with a discretionary payment made to reward employees' contributions. 
PRE-TAX HEALTHCARE ACCOUNTS: Eligible employees can withhold money on a pre-tax basis from their paychecks for payment of qualified healthcare or dependent care costs. 
RETIREMENT SAVINGS: US-based benefits include our 401(k) program with a generous company match. We also offer a wide range of retirement benefits for our globally-based employees.
Looking for career opportunities, send an inquiry to careers@HJBaker.com.